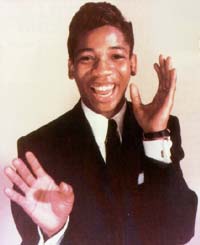 I just picked up a copy of
Fever: The Best of Little Willie John
on CD from half.com. I paid less than $10, including shipping, which seems to be a bargain, based on the prices amazon lists for used discs. I put it on my half.com wish list a couple of years back, after listening to some Robbie Robertson. In "Somewhere Down the Crazy River", he sings about "laying in the back seat, listening to Little Willie John. Yeah, that's when time stood still." The song is so packed with great images that I knew
Little Willie John
just had to kick ass.
He does. Man, does he. He could easily have been just another nondescript black singer from the 50's. He's got the smooth voice, with just the right touch of vibrato, and flawless phrasing - good enough. But when the emotion wells up in the line and his voice -cracks- just a tiny bit, it makes me want to cry.
He's on my new favorites list. And should luck be with me this summer, I'll eventually find myself - well, 'take a picture of this: The fields are empty, abandoned '59 Chevy. Laying in the back seat listening to Little Willie John. Yea, that's when time stood still'.